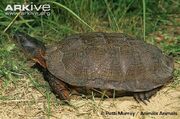 The wood turtle (Glyptemys insculpta) is a species of turtle endemic to North America. It is in the genus Glyptemys, a genus which contains only one other species of turtle: the bog turtle (Glyptemys muhlenbergii ). The wood turtle reaches a straight carapace length of 14 to 20 centimeters (5.5 to 7.9 in), its defining characteristic being the pyramidal shape of the scutes on its upper shell. Morphologically, it is similar to the bog turtle, spotted turtle (Clemmys guttata), and Blanding's turtle (Emydoidea blandingii ). The wood turtle exists in a broad geographic range extending from Nova Scotia in the north (and east) to Minnesota in the west and Virginia in the south. In the past, it was forced south by encroaching glaciers: skeletal remains have been found as far south as Georgia.
Gallery
Books
Community content is available under
CC-BY-SA
unless otherwise noted.