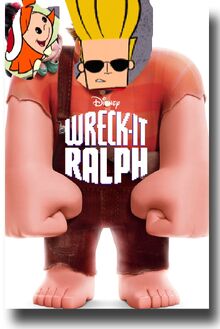 1701Movies' movie spoof of Wreck-It Ralph (2012). It will appear on YouTube in the near future in honor of Ralph Breaks the Internet: Wreck-It Ralph 2.
Cast:
Wreck it Ralph - Johnny Bravo
Vanellope Von Schweetz - Little Suzy (Johnny Bravo)
Fix-It Felix, Jr. - Ash Ketchum (Pokemon)
Sergeant Tamora Jean Calhoun - Serena (Pokemon)
King Candy - James (Pokemon)
General Hologram - Zeus (Hercules)
Taffyta Muttonfudge - Mertle Edmonds (Lilo and Stitch)
Surge Protector - Dr. Z (Dinosaur King)
Sour Bill - Meowth
Q'Bert - Himself
Zangeif - Red (All Dogs Go to Heaven 2)
Clyde - Aldrin Klordane (Chip 'n Dale Rescue Rangers)
Zombie - Count Dracula
Sonic the Hedgehog - Artemis the White cat
Cy-bugs - Sarpooth
Dr. Eggman - Zirconia (Sailor Moon)
Wynchel and Duncan - Ozzie and
Gene - Chief Powhatan (Pocahontas)
Turbo - Butch (Pokemon)
Bowser - Anubis (Yu-Gi-Oh! the Movie: Pyramid of Light)
Bison - Klaus Vorstein (The Chipmunk Adventure)
Trivia:
This is the first movie-spoof of 1701Movies to use the Johnny Bravo intro.
Gallery: