Cast: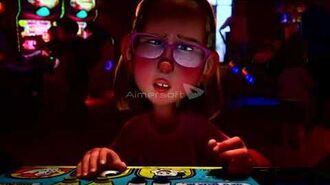 Wreck-It Ralph - Migo (Smallfoot)
Fix-It Felix - Percy Patterson (Smallfoot)
Vanellope von Schweetz - Cindy Lou Who (The Grinch)
Sergeant Calhoun - Brenda (Smallfoot)
King Candy/Turbo - King Goobot (Jimmy Neutron)
Sour Bill - Garry Pig (The Angry Birds Movie 2)
Q*Bert - Otto (Minions: The Rise of Gru)
General Hologram - Chief Bogo (Zootopia)
Surge Protector as Itself
Taffyta Muttonfudge - Melba Manners (Pet Alien)
Winchell and Duncan - Alpha and Beta (Storks)
Zangief - Dag (Barnyard)
Zombie - Dave (Penguins of Madagascar)
Clyde - Hunter (Storks)
Sonic the Hedgehog - Sonic (LA) (Sonic The Hedgehog (2020))
Dr. Eggman - Dr. Ivo Robotnik (LA) (Sonic The Hedgehog (2020))
Bowser as Itself
Cy-Bugs - Hyenas (The Lion King)
Saitine - Red (All Dogs Go To Heaven 2)
Cyborg - Oogie Boogie (The Nightmare Before Christmas)
M. Bison - Thrax (Osmosis Jones)
Gene - Mr. Potato Head (Toy Story)
Marry - Mrs. Potato Head (Toy Story 2)
Nicelanders - Various Toons
Glenn - Grey (Sheep & Wolves)
Tapper - Nigel (The Wild Thornberrys)
Markowski - Héctor (Coco)
Pac-Man Itself Super smash bro's ultimate
Inky - Sylvester (Looney Tunes)
Blinky - Puffin (The Swan Princess)
Pinky - Ginger (Chicken Run)
Dr. Brad Scott - Miguel (The Road to El Dorado)
Beard Papa - Captain Kiddie (Tom & Jerry: The Movie)
Moppet Girl - Shanti (The Jungle Book 2)
Mr. Litwack - Geppetto (Pinocchio)
Community content is available under
CC-BY-SA
unless otherwise noted.