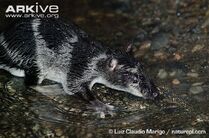 The yapok (Chironectes minimus) is a semi aquatic carnivore which feeds on fish, crustaceans and insects. The yapok typically lives in streams and rivers in tropical forests. An excellent swimmer, the yapok has webbed hind feet. The yapok is nocturnal and secretive, and dens are built underground in the river bank.
See Also
Derby's Woolly Opossum 

Brown-Eared Woolly Opossum 

Lutrine

Big-Eared Opossum

Andean White-Eared Opossum

Grey Short-Tailed Opossum

Mouse Opossum

Monito Del Monte
Gallery
Is a Crocodile a Reptile?
Books