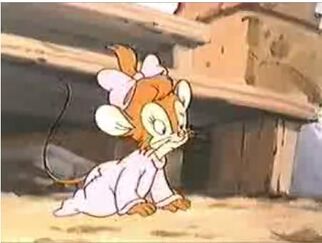 Yasha Mousekewitz is Fievel and Tanya's Baby Sister from "An American Tail" and one of the characters in
Kids World's Adventures of An American Tail
.
As Young Cinderella In Olivirella
She is a Little Girl
She is a Puppy
As Baby Melody in The Little Bianca 2: Return to the Sea
She is a infant
She is a Puppy
She is a Young Russian Princess
As Paprika in Elmo's Clues!
She is a Baby Sister
She is a Young Mermaid
Trivia
Yasha will reunite with Eli Wages' Team in Kids World's Adventures of An American Tail: The Treasure of Manhattan Island, the King of Thieves, The Chipmunk Adventure, Free Willy 3: The Rescue, Fantasmic!, The SpongeBob SquarePants Movie and lots more!
She becomes Mrs. Brisby's adoptive daughter after Cat R. Waul killed her parents.
Portrayals:
In An American Tail spoof for Chris1702 she is played by ???.
Gallery:
Community content is available under
CC-BY-SA
unless otherwise noted.