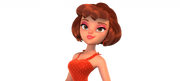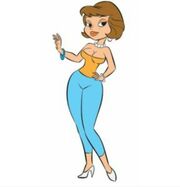 Yayita 
is Condorito's "fashionable eternal fiancée." She loves him but hates his reluctance to discuss marriage. Although Condorito often gives her flowers, most of the time they come 
from her 
own garden. Yayita is strong-minded, very attractive, sharp-tongued and sometimes jealous (though she isn't above flirting with other men in order to gain Condorito's attention). A running gag involves Yayita wearing revealing outfits or minuscule thongs that makes everyone look at her with desire, while Condorito shakes and foams with rage. She is also very unskilled at things like driving, cooking, and painting, which tends to be a source of problems for Condorito as well. (A running gag involves Condorito trying to eat Yayita's atrocious home cooking just to avoid hurting her feelings.) Yayita also tries a lot of odd jobs to support her lifestyle (e.g., movie extra, secretary, model, flight attendant) and practices aerobics and nudism at a women-only health club, all behind her boyfriend's back.
Community content is available under
CC-BY-SA
unless otherwise noted.