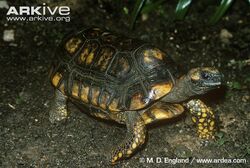 The largest tortoise on the mainland of South America, this tortoise is named after the large yellow or orange scales that cover the front of each forelimb. The elongated carapace, or upper shell, of the yellow-footed tortoise is brown, with yellowish or orange tones in the centre of each scute. The well developed shell on the underside of the tortoise, the plastron, is yellowish-brown, with darker colouring at the edges of the scutes. Thin, leathery, yellow to orange scales cover the head of the tortoise, and it has a slightly hooked upper jaw. Males of this species are generally larger than females, and can also be distinguished by their longer, thicker tails, more elongated carapace, and concave plastron. It is thought that the more elongated carapace of the male is better suited to moving through the dense understorey of the forest, while the shell of females is adapted to store eggs.
Gallery
Community content is available under
CC-BY-SA
unless otherwise noted.