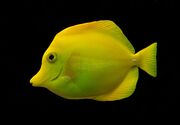 In the wild,
yellow tang
(
Zebrasoma flavescens
) feed on benthic turf algae and other marine plant material. In captivity they are commonly fed meat/fish based aquarium food, but the long term health effects of this diet are questionable. However, most experts in the marine aquarium industry express little skepticism that such a well rounded and balanced diet including plant and animal material would be in any way detrimental to mostly herbivorous fishes like tangs, since they still need on occasion, complex amino acids and nutrients that only ocean animals can provide. In the wild, yellow tang provide cleaner services to marine turtles, by removing algal growth from their shells.
Roles
Gallery
Books
Community content is available under
CC-BY-SA
unless otherwise noted.