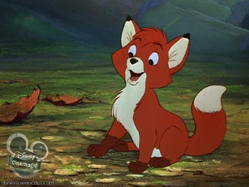 (Young) Tod is the past self of Adult Tod in Walt Disney's 24th animated feature, The Fox and The Hound and its less successful 2006 direct-to-video midquel. In the franchise, he was voiced by Keith Coogan in the original film (though credited as "Keith Mitchell") and later Jonah Bobo in the midquel.
He played as the Infant Grinch in How The Wolf Stole Christmas (2000)
He is a hairy, green baby
He played as Kevin McCallister in Home Alone 2: Lost in New York (PrinceBalto Style)
He is a boy
He played Kal-El/Infant Clark Kent in Superwolf: The Movie
He is a Kryptonian baby
He is an elephant
He is a talking donkey
He is a two tailed fox
He is Jason and George's best friend
He is a boy
He played as Young Garrett in Quest for the Farthing Wood
He is a young blind warrior
He played as Cub Rajah in Kermiladdin and Kovuladdin
He is a tiger cub
He is a street boy
He is a boy
He played as Boy wanting an apple in Simbaladdin
He is a boy
He played as Young Simba in The Fox King (ToonJoey34 style)
He is a lion cub
He played as Young Wilbur in Miss Bianca's Hole
He is a pig
He is a bear cub
He played as Stuart Little in Tod Little
He is a mouse
He is Dorothy's pet dog
He is a Fish
He is a bar of soap
He is a squirrel
He played Nibs in Bugs Pan
He is a Skunk Lost Boy
He is a Dog
He is a Chameleon
He's a Hee-man Woman Hater
He is a Wolf Pup
Gallery:
Community content is available under
CC-BY-SA
unless otherwise noted.