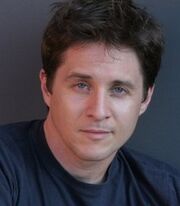 Yuri Lowenthal (born March 5, 1971) is an American actor, producer, and screenwriter known chiefly for his voice-over work in anime, cartoons and video games. Some of his prominent roles in anime and cartoons include teenage Ben Tennyson in Ben 10, Sasuke Uchiha in Naruto, Jinnosuke in Afro Samurai, Suzaku Kururugi in Code Geass, and Simon in Gurren Lagann. In video games, he voices The Prince in Ubisoft's Prince of Persia, Alucard in Castlevania, Hayate/Ein in Dead or Alive, Matt Miller in Saints Row, the Protagonist in Persona 3, Yosuke Hanamura in Persona 4, Marth in Fire Emblem, and Peter Parker/Spider-Man in Insomniac's Spider-Man. He has a production company Monkey Kingdom Productions with his wife, Tara Platt, where they have produced several feature films and a live-action web series called Shelf Life. He co-authored the book Voice-Over Voice Actor.
Roles:
Suits he wore for the voice role as Peter Parker/Spider-Man in Marvel's Spider-Man (2018)
Community content is available under
CC-BY-SA
unless otherwise noted.