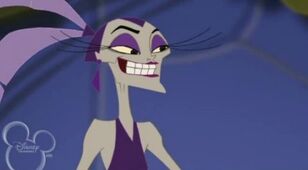 Yzma is the main villain from The Emperor's New Groove.
She is a dental patient
She is a cruel old woman
She is a cruel old waterbender
she is a villain
She is a witch
She is a mother
She is a woman
Yzma plays Ursula in The Little Arabian Princess and The Little Mer-Kiki
She is a sea witch
Yzma plays Mrs. Fieldmouse in Auroralina
She is a mouse
She is a blue caterpillar
She is a snow leopard
Yzma played Lila in Disney Sentai Timeranger
She is a Henchwoman of Don Dolnero.
Yzma played Nadira in Disney Rangers Time Force
She is the Daughter of Ransik
Yzma played Clotho in Kuzcocules
She is the sister of Maleficent and Ursula
Portrayals:
Gallery:
Community content is available under
CC-BY-SA
unless otherwise noted.