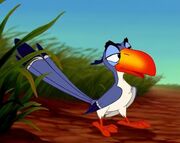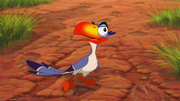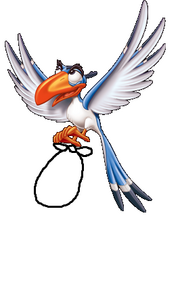 Zazu is a Hornbill from The Lion King
He is a Panther
He is a cyboid
He is a seahorse 
He is a dwarf
He is a turtle
He is a Red Grumpy Parrot
He is a seagull
He is a lizard
He is a bird
He is a mouse
He is a bird
He is a judge
He is a nightingale
Zazu played Jerald the Pelican in Finding Ness
He is a genie
Zazu played Supreme Chancellor Valorum in Animation Star Wars
He is a politician
He is a squire
Zazu played Stewie Griffin in Canal Famille Guy
He is a child
Zazu played Bender in Futurama (PierrickCanalFamille Style)
He is a robot
Zazu played Duck in Canal Famille Planet
He is a duck
He is a shrimp
He is a ostrich
He is a radio
He is a dwarf
He is a cricket
He is a white bat
Zazu played Magic Carpet in Fieveladdin
He is a magic carpet
Zazu played Marshall in Wild Age 4: Continental Drift
He is a Sloth
In his pendulum clock form.
Zazu played Bron in The Land Before Time 10 The Great Bird Migration
He is a Apatosaurus
He is an Octopus

Actors
Portrayals:
Trivia:
Gallery:
Trivia
His appearances in the Stephen Squirrelsky and Friends' Movie Spoof Travels are The Wizard of Oz (Uranimated18's Style) and will even be in more movie spoof travels.
Community content is available under
CC-BY-SA
unless otherwise noted.