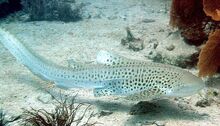 The zebra shark (Stegostoma fasciatum) is a species of carpet shark and the sole member of the family Stegostomatidae. It is found throughout the tropical Indo-Pacific, frequenting coral reefs and sandy flats to a depth of 62 m (203 ft). Adult zebra sharks are distinctive in appearance, with five longitudinal ridges on a cylindrical body, a low caudal fin comprising nearly half the total length, and a pattern of dark spots on a pale background. Young zebra sharks under 50–90 cm (20–35 in) long have a completely different pattern, consisting of light vertical stripes on a brown background, and lack the ridges. This species attains a length of 2.5 m (8.2 ft).
Gallery
Community content is available under
CC-BY-SA
unless otherwise noted.