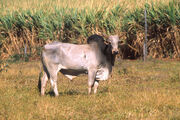 A zebu (Bos indicus, Bos taurus indicus, or Bos primigenius indicus), sometimes known as indicine cattle or humped cattle, is a species or subspecies of domestic cattle originating in South Asia. Zebu are characterised by a fatty hump on their shoulders, a large dewlap, and sometimes drooping ears.
Gallery
Books
Community content is available under
CC-BY-SA
unless otherwise noted.