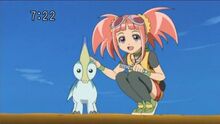 Zoe Drake is the younger sister of Dr. Reese Drake. Her sunglasses double as a camera. She knows when to keep focused and cares deeply for her friends. She sometimes shows to be excessively fond of some stars. She owns a Parasaurolophus called Paris and also most of the grass dinosaurs. Her parents are both veterinarians and own an animal hospital. In the dub of episode "Vaccination Vacation", the Drake's home as well as the family was transported onto Zeta Point. Her partner is a Parasaurolophus named Paris. Zoe has a crush on Max.
Voice Actors:
Kether Donohue - English
Tomoko Kobashi - Japanese
Shandra Schadt - German

Marta Argota

 - Spanish

Solis Nallelys

- Spanish

Angelica Villa

 - Spanish

Francesca Bielli

- Italian

Julie Basecqz

- French
Trine Glud - Danish
She is the Arabian princess.
She is a recurring role.
She is a mouse.
She is a cat.
She is a Powerpuff Girl.
She is a dynamite gal.
She is a waitress.
She is a mermaid.
She is a mystery solver.
She is a widow.
She is an emotion.
She is a Pokemon trainer.
She is a toaster.
She is a swan.
She is a friend of Serena.
She played Heather Hogwarsh in Super Pig spoof for 398Movies
She is a hothead.
She is one of the Kanker sisters.
She is Baloo's girlfriend.
She is a Sailor Scout.
She played Dexter's Mom in Dexter's Laboratory spoof
She is Dexter's mom.
She played Lita/Sailor Jupiter in Sailor Moon Spoof for 1952Movies
she is the 4th Sailor
She Played Na Ise In Bleach Chris1701
She is a Ninja
She is a ninja.
She Played Sailor V In Sailor Venus (Chris1988 Style) and Code Name Wa Sailor V (Chris1988 Style)
She is The first Sailor Scout
She played Zola in Blue Dragon (400Movies Style)
She is a guardian.
Portrayals:
Gallery: