Bio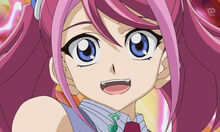 Zuzu has blue eyes and dark pink midback-length hair, which she wears tied up in pigtails, clipped down by blue, spherical hair clips. Her hair also features two lighter pink bangs that fall to the side of her face. Zuzu's outfit consists of a sleeveless light-blue and white shirt with a green musical note on the right collar, along with a red tie, which she wears with a dark red skirt and dark stockings. Her skirt was lengthened in the dub to cover the bare skin showing on her legs but starting from the Arc League Championship Arc, her stockings are lengthened instead. She notably is not shown wearing the school jacket from Paradise Prep School that other female students wear. She also wears a bracelet with strange abilities. These powers seem to be connected to Yuya and his counterparts, activating whenever Zuzu, Yuya and any of his counterparts are in close proximity Zuzu later switches clothes with Celina, but she retains her bracelet, her spherical hair clips and her Duel Disk. Later, she starts wearing some of Rin's clothes while staying at Yugo's orphanage in the Synchro Dimension: the first outfit was a pink top and yellow shorts. During the Friendship Cup, Zuzu wears one of Rin's Turbo Dueling outfits; a predominantly white one-piece short-sleeved jacket-miniskirt combination with light pink shoulder pads and hot pink markings, in addition to back pockets; long white gloves with light pink elbow pads that extend over her elbows, hot pink pants, and white knee-length form-fitting boots with light pink kneepads.
While in the Underground Labor Factory, Zuzu wore one of the factory's uniforms: a dark red full body suit with a hood and brown shoes without socks
Portrayed
Gallery
Community content is available under
CC-BY-SA
unless otherwise noted.