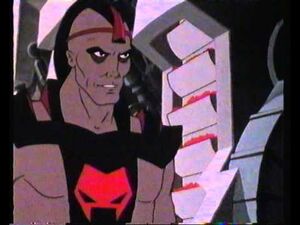 Zygon is the main villain in Starchaser: The Legend of Orin.
He is a sith lord
He is an evil lawyer
Zygon Played Jafar In Anarioladdin and Anarioladdin II: The Return of Zygon
He is a sorcerer
Zygon played Ratigan in The Great Super Italian Detective
Zygon Played Syndrome In The Incredibles (160 Movie Style)
He is a super villian
Zygon played The Sheriff of Nottingham in Anario Hood
He is Samantha's abusive and alcoholic father
Zygon played Percival C. McLeach in The Rescuers Down Under (??? Style)
Zygon played Jack Torrance in
Zygon played James in Pokémon (??? Style)
Zygon played himself in the Clash of the Links film series
Again, he is still the same character as he was in his own film and is still voiced by Anthony De Longis, but is now a friend to Edgar the butler and serves as a supporting villain.
Voice Actors
Anthony De Longis - English
Enemies
Prince Anario and Princess Oriana Prince Derek and Princess Odette Jack Frost and Elsa the Snow Queen Kristoff and Princess Anna Flynn Rider and Rapunzel Beast and Belle Aladdin and Princess Jasmine Prince Charming and Cinderella Wart and Alice Peter Pan and Tiger Lilly Prince Phillip and Princess Aurora Roger and Anita Radcliffe Curdie and Irene Cornelius and Thumbelina Dimitri and Anastasia Taran and Eilonwy Jim Hawkins and Riley Andersen Hercules and Megara
Community content is available under
CC-BY-SA
unless otherwise noted.